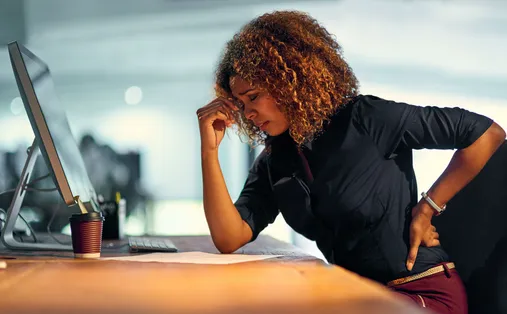 Anyone who has ever held a job has felt the pressure of Executive Stress. Even if you love what you do, every job has stressful aspects (a project arrives without warning, emails stack up, a coworker drops the ball on a shared assignment, etc. )
For some, stress is a motivator to get things done. However, high levels of daily stress can cause burnout, a syndrome resulting from long-term, chronic job or workplace stress that hasn't been resolved or successfully managed.
If you feel "worn out," exhausted physically, mentally or emotionally, start to hate your job and feel less capable at work, you are showing signs of burnout - and need to take it seriously.
Burnout affects workers in every industry, as at every level. Those in high stress jobs, especially entrepreneurs, business owners, freelancers and remote workers, are at a higher risk. If not addressed, chronic stress and burnout can have serious health consequences including:

anxiety
insomnia
fatigue
muscle pain
high blood pressure
weakened immune system
heart disease
depression
obesity
type 2 diabetes
alcohol or substance misuse
vulnerability to some cancers
How Stress Management Coaching Can Help
The good news is that Executive Stress doesn't always lead to burnout. If stress is managed well, burnout can be prevented - and reversed. The right support and stress relief plan is essential- and personal coaching can provide the roadmap, step-by-step guidance and skills to relieve stress, regain focus and restore balance by helping you to:
Understand your stress response. When you face a stressful situation ( work deadline, losing a job), your brain identifies the challenge and sounds an alarm, preparing you to react quickly. Stress hormones flood your system and produce a "fight-or-flight" response (increased heart rate, faster breathing, tense muscles, etc.). Observing physiological changes is the first step in learning to manage stress more effectively.
Identify your stress triggers. Everyone experiences stress differently (pain, headaches, trouble sleeping, stomach aches, anger, sadness, etc.) and part of controlling it involves becoming more aware of your personal stressors (situations, events, people ) that trigger your reactions. Take our free stress quizzes to assess your personal and work triggers.
Improve your lifestyle. Making small but powerful changes to unhealthy eating, exercise, sleep, mental and social habits can help minimize stress. In fact, the latest research shows that 80% of stress-related illnesses (heart disease, stroke, type II diabetes, etc.) and 40% of cancers can be prevented with improvements to diet and lifestyle.
Manage negative moods. Many people spend the majority of their day stuck in stress, frustration and overwhelm, often needlessly. Understanding how you create unproductive states and learning to reframe them can help you shift negative emotions and adapt thoughts to a more positive mindset, which can be just as important as eating well and getting enough exercise and sleep.
Develop new coping skills. Deep breathing, muscle relaxation, meditation, body scanning and guided imagery are powerful mindfulness techniques for de-stressing your body and brain. In a recent UCLA study, participants who learned and practiced mindfulness for just 5 minutes a day over 3-weeks significantly reduced their stress. They also experienced an increase in life satisfaction, mastery of their environment and more positive relationships with others.
Ready to find relief? Read about our Stress Management Programs and schedule a free discovery call today. Learn how personal coaching can help you reduce stress, avoid or rebound from burnout and restore healthy work-life balance. We serve local clients in New York and nationwide, across all 50 U.S. states.